This Mega deck project included a screened in porch with water tight ceiling, a 2 storey gazebo with a copper roof and many, many finishing touches to make this project the jewel in the crown of Percy Lake.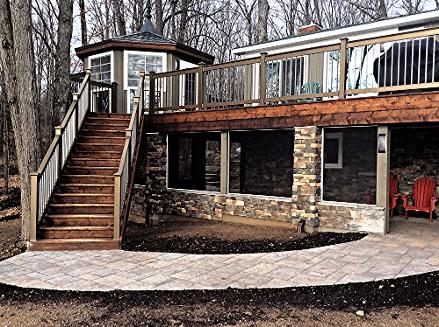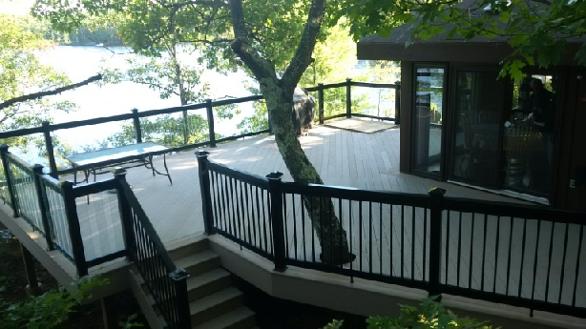 This virtually maintenance free deck gives the impression of being in a tree house.
The products used in this project have been chosen for their durability and maintenance free qualities. Azek PVC decking, aluminium railing system, glass balusters and solar light caps all contribute to maximizing time spent AT the cottage rather than ON the cottage.
One thousand square feet of new living space makes these cottagers ready for any crowd! Dance anyone?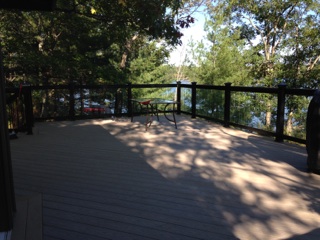 The use of these innovative products requires knowledge and precision. At Good Earth Landscaping & Construction we are always on the lookout for the newest technology while continuing to use time tested construction methods. Experience and research is the key to making your next project safe, lasting & beautiful.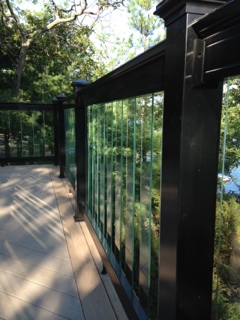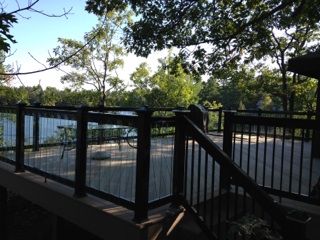 This amazing view is maximized by the use of glass balusters on three sides. Using glass balusters allows a cooling breeze on balmy summer days while maintaining the view. Use of glass panels can be problematic in the midday sun making your deck uninhabitable on hot days.
Adding a double rim board in a complimentary colour creates interest and gives a more custom look to your new deck. Installing the deck boards on a diagonal breaks up the monotony of the decking and is far more appealing to the eye.

This close-up shows just how far composite decking materials have come. Virtually indistinguishable from wood, except for all the work you won't be doing any more! Where did all those screws go?? Good Earth's commitment to the use of cutting edge technology and best practises will provide you with a deck free from the appearance of fasteners of any kind. Stainless steel cleats secure the majority of the deck and screw heads in the rim boards are sunken then capped off with materials that match the grain of the composite providing the viewer with the seamless look Good Earth strives for in all that we do.