In the 25 years that Steve has been in business he has been interviewed many times on many landscaping subjects. In this page we will share some of these with you.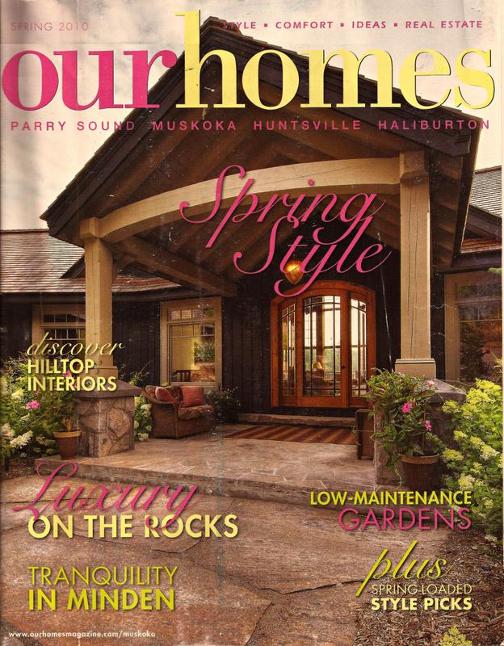 The purpose of doing interviews aside from increased exposure, is to educate readers on how best to achieve their landscaping goals. Time and again we hear from clients that they need someone to "come and fix" some disaster that has been created by "landscapers" who have given them a "cheaper" price. The old adage that you get what you pay for is for the most part true. Hiring an expert will save you money in the long run, especially when you consider the cost of redoing a job. In the end to undo that which has been done and perform the job correctly can cost MORE than the original expense! Do your homework. Be sure you are comparing apples to apples (and not just when they're trees).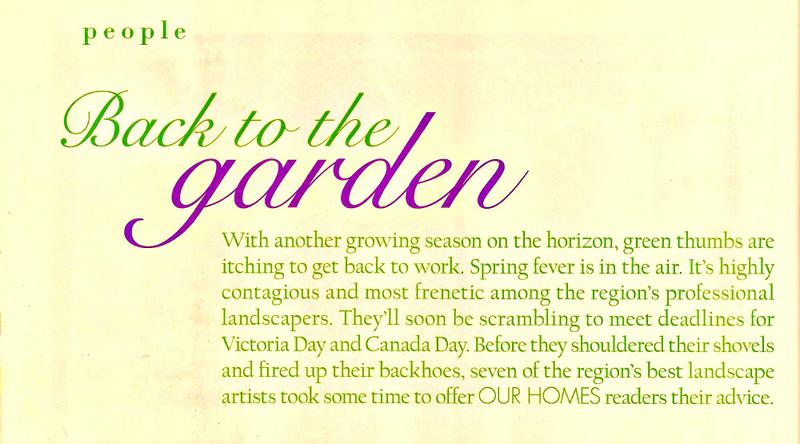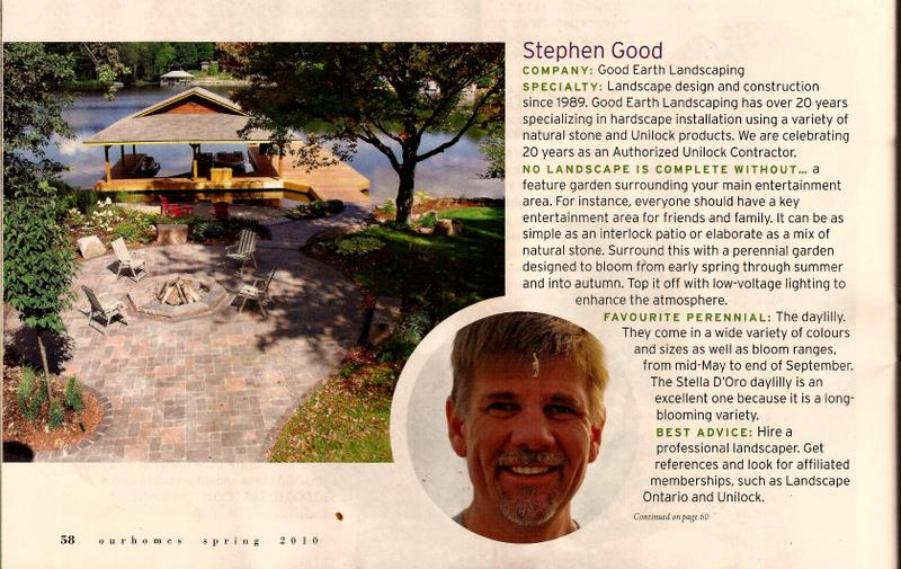 Jun 24, 2011
Touch of wildness is the perfect style in Muskoka
Huntsville Forester
MUSKOKA SUN - When it comes to landscaping your cottage property, less is often more — as in less manicured, more natural.
Steve Good of Good Earth Landscaping says the preference for a natural look is well established with cottagers in Muskoka.
"That's been going on for years now," he said.
People are moving away from golf course-style lawns in Muskoka, allowing their yards to have some wild elements. In an environmentally conscious region such as this one, it only makes sense: there are fewer chemicals and pesticides needed to maintain a bit of a wilder look, so it's ultimately better for the surrounding area.
In choosing a landscaper, Good recommends some due diligence, much like choosing a contractor.
"We get a lot of people asking for references, and usually I try to provide them with (evidence of) similar jobs we've worked on in the past," Good said.
While gardening is a labour of love, you can still get the look you want without putting in the necessary hours.
Using a landscaping service can help take the trouble out of making your cottage property beautiful. Local companies are well versed in native species and what works — and doesn't — in Muskoka's rocky soils and terrain.
Planting native species brings several benefits to your yard. They can help your cottage property with any number of things, including improved water quality and preventing shoreline erosion and nuisance wildlife.
But landscaping entails so much more than just gardening. Muskoka-based companies know that entertaining is a big part of cottage culture, and will work to make your yard ideal for that.
Many companies offer a full range of decks, steps, patios, walkways and more. According to Good, it is best practice for people to be informed when making decisions on their landscaping project.
"They want to know what they're getting. They want to know what kind of stone they're using," Good said. "You want to make sure that everything's suited to the area. We use a lot of local products, (especially) Muskoka granite."
Of course, few cottagers want to spend all their time in Muskoka tending to the gardens. Many opt for a low-maintenance approach, making extensive use of mulch, keeping adequate space between plants, planting perennials and using hardy native species.
"We pretty the place up and make sure it's weed-free for them, and that way all they have to do is turn on their irrigation system," Good said. "That pretty much sets them up for the summer; very low maintenance."
And whether using landscapers or doing-it-yourself, Good offers some helpful advice.

"Especially with waterfront properties, I like to get them to work from the water out, rather than start at the back side of the cottage, and cut off your access to the waterfront side," he said. "So I always try to impress on them, always start at the furthest point."