Retaining walls can be constructed from many different materials. From manufactured products, to armour stone, timbers & boulders on your site; your wall can easily be made to compliment your landscape or disappear with some well placed gardens. Whatever your property's needs a Good Earth wall will do the job leaving you with a retaining wall that has both strength & style. At Good Earth we guarantee our "hardscapes" for 5 years so that you may have confidence in choosing us to provide your services.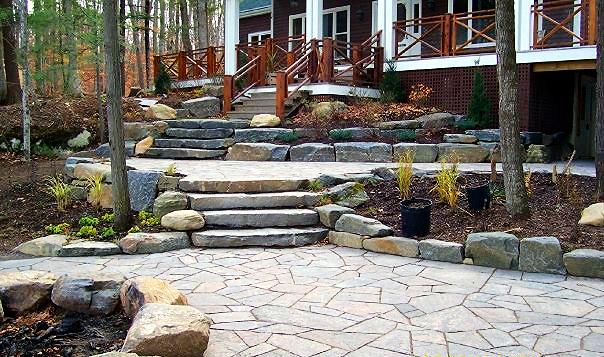 This island project provides an example of what a retaining wall can be. Functional yet complimentary to the property, these walls support and frame in the entire landscape. (patios, steps and firepit also a Good Earth project).
Completed armour stone retaining walls frame in the beach, granite steps and create beds ready for planting.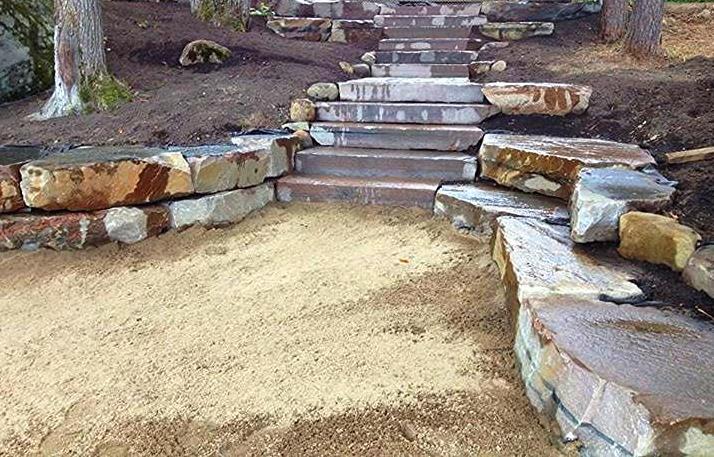 Before: These customers wanted to prevent erosion and improve their view. Additionally, a new area was needed to provide parking for a growing extended family.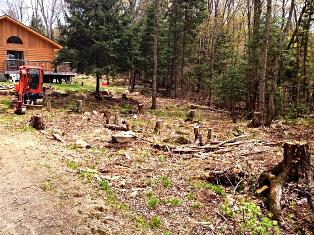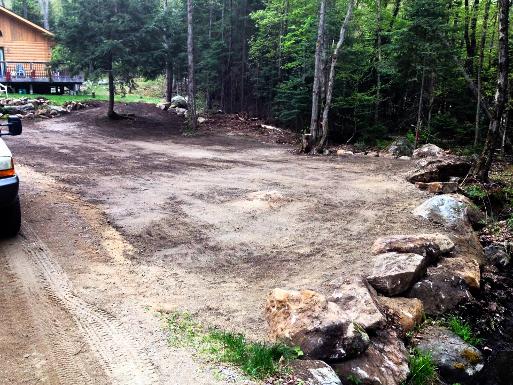 After: Erosion halted and ratty landscape gone! The improved view allows these cottagers to see their new arrivals and provides parking for all while maintaining a warm woodsy feel. Dramatic results in just two days.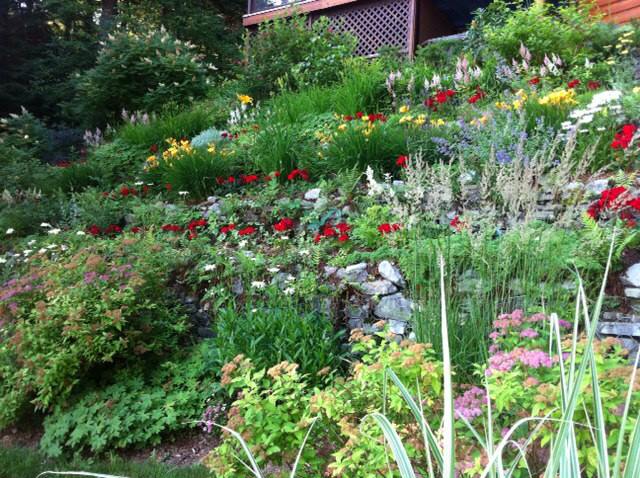 A few short years after the installation of this multi tiered retaining wall it has all but disappeared in a sea of perennials interspersed with a few annuals to change the look from year to year.
Enough already! After the 2013 spring flood these Good Earth customers, fed up with replacing the beach every year opted for a beautiful curved, enduring and virtually maintenance free river rock retaining wall.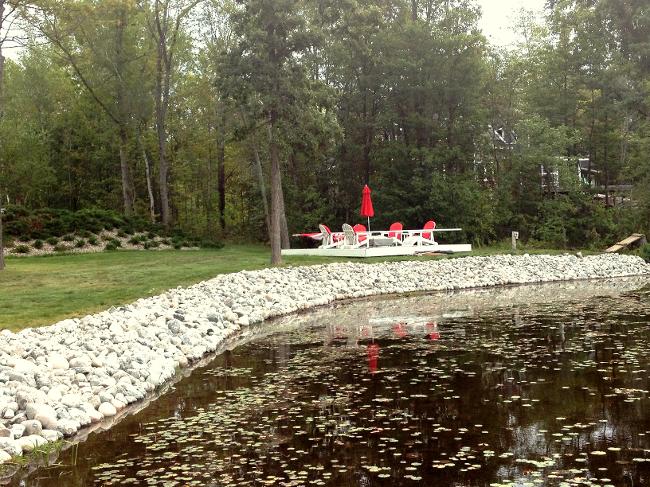 In this project tiered retaining walls were used to provide planting beds, frame the steps and allow a gradual descent into the backyard below.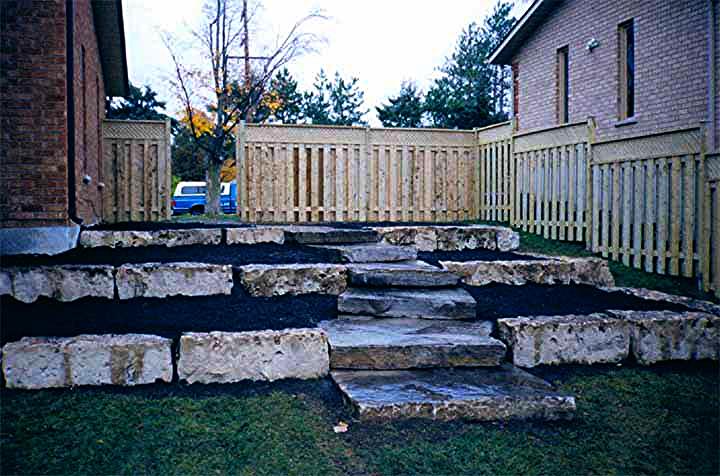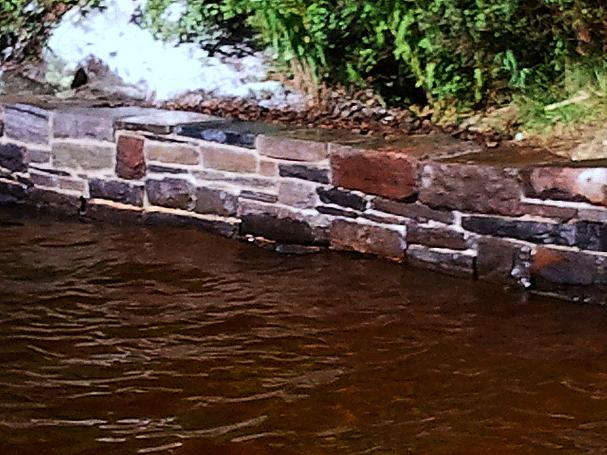 Island properties have a unique beauty unto themselves and this project was no exception. While challenging, island work is yet another speciality at Good Earth.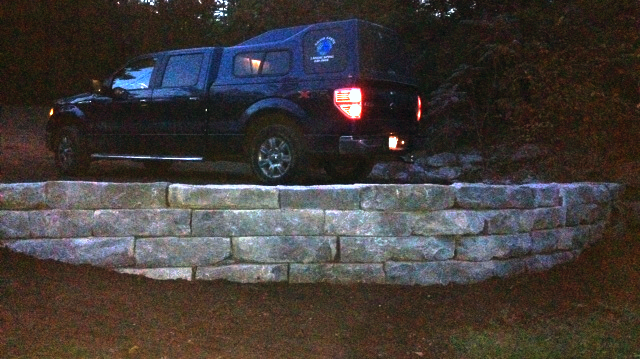 Packed up and ready to go! This retaining wall while simple in appearance is a continued example of the condition that your property will be left in. The job isn't done until the site is immacculate and ready to enjoy.
When budget concerns become an issue consider using a manufactured stone.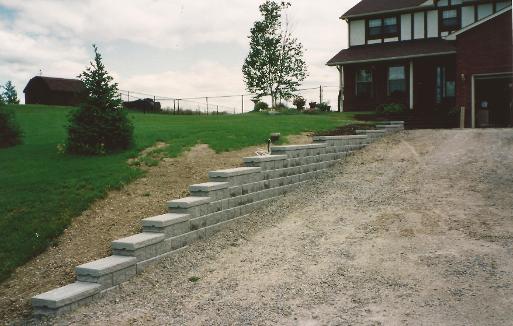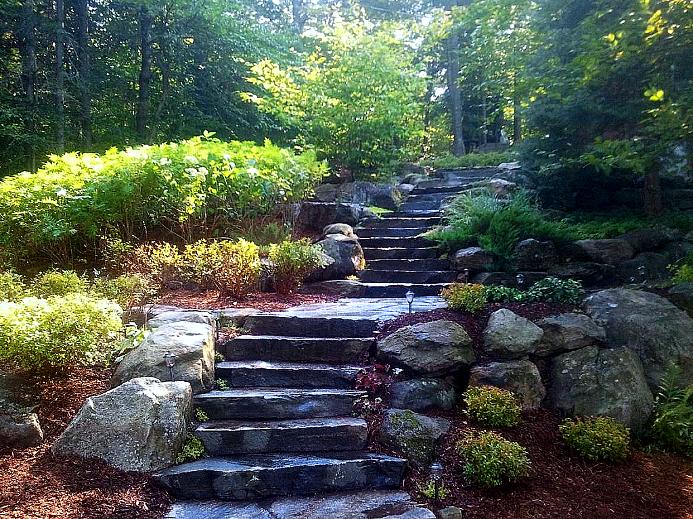 Natural stone can frequently be found on the property as seen in this example. Rocks from this site were used to frame these newly placed steps and blend them seamlessly into the existing landscape; giving the appearance of having been in place for years.